Workers'
Compensation
WorkCover Personal Injury Lawyers
WorkCover Injury Lawyers
WorkCover Injury Lawyers Melbourne:
Get the Compensation you deserve
Injured at work?
WorkCover insurance covers those workers injured at work or suffering a work-related illness.
Injured workers can claim compensation for their pain and suffering, loss of income and medical expenses, regardless of who is at fault for their injury.
Who Can Make Workers' Compensation Claims in Victoria?
All Victorian workers who are employed on a full-time, part-time, or casual basis can make a claim.
In some cases, contractors and subcontractors are also covered.
Have you suffered an injury or illness at work?
Take our free claim check today to see if you're eligible for compensation, or call us to talk to us today.
What Should I Do If I've Been Injured or Suffering an Illness from Work?
Seek Medical assistance first. Make sure you take care of yourself and your injury or illness, your health is the priority.
It is beneficial to then report your injury to your employer as soon as possible.
When Should I Consult a Workers' Comp Lawyer?
Time limits do apply. These claims should be lodged within 30 days of your injury/illness.
If you have sustained a new injury and/or illness, or a pre-existing injury or illness has been aggravated or has worsened because of your work, you may be entitled to workers' compensation.
Zaparas Lawyers understands how stressful and complicated making a workers' compensation claim can be our firm is here to assist you every step of the way.


What WorkCover Entitlements Are Available?
Our Work Compensation Lawyers can help you achieve these entitlements:
1. Weekly payments for lost wages
2. Lump Sum Compensation
3. Common law damages for pain and suffering and loss of both past and future savings
4. Superannuation entitlements
5. Medical and treatment expenses including:
GP appointments
Hospital expenses
Rehabilitation expenses including Physiotherapy and other allied health services
Psychological/Psychiatric therapy
Medication expenses
Personal and home help services
Occupational rehabilitation services
Radiology
Surgery
Travel expenses
Return to work services


Why Zaparas Lawyers?
At Zaparas Lawyers, we have over 40 years of experience in workers' compensation claims. Our WorkCover Lawyers will be able to maximise the benefits you receive. We have offices all over Melbourne with a dedicated team stationed at each location. You can find us in
Having a lawyer beside you through this process places you on a more even playing field with the insurer. It can be very stressful for injured workers to deal with this, especially when you should be focused on your own health.
We are highly experienced in dealing with Insurers. Let us take the stress from you and help keep them accountable.
Without representation, many workers are also unaware of their right to dispute decisions or the time limits within which such decisions can be opposed. Having a Lawyer by your side can spare you the burden of having your weekly payments potentially ceased.

Still unsure whether your situation requires a lawyer? We've created an article detailing what a lawyer can help you with, with case studies to help you decide if this is right for you.

No Win, No Fee
We've seen how traumatic and life changing an injury can be, so we understand how important it is that you don't have to worry about the financial side of your claim.
Learn More About No Win – No Fee
We are a family business – and we will treat you as one of our own.
Contact us today for a free, no-obligation appointment.
Doyles Award-Winning Work Injury Compensation Lawyers (Plaintiff) – Victoria
2016, 2017, 2018, 2019, 2020, 2021, 2022 and 2023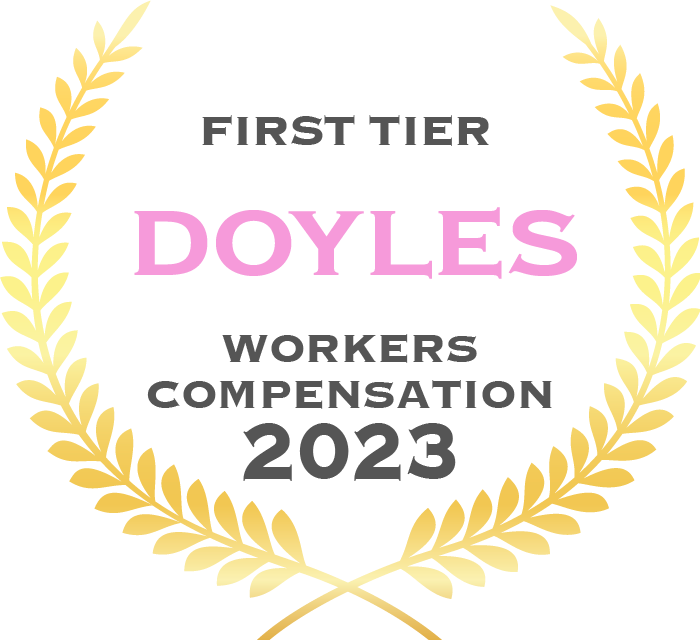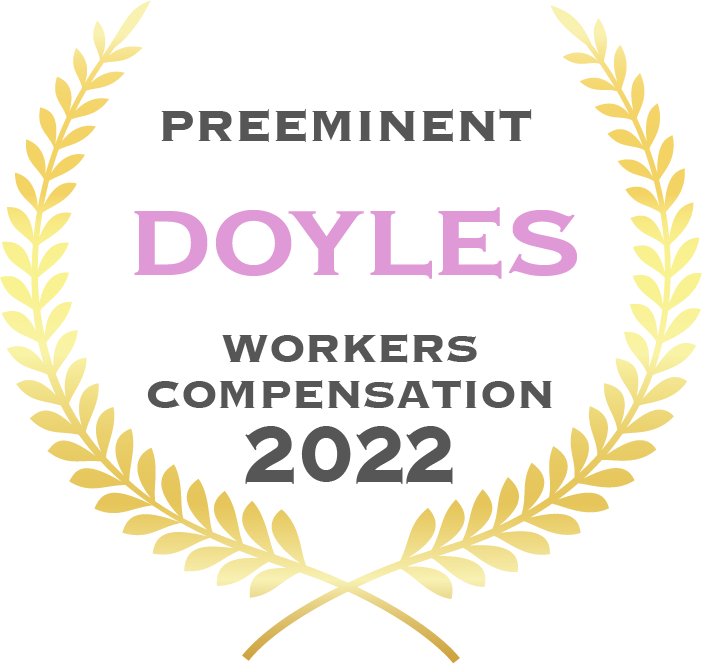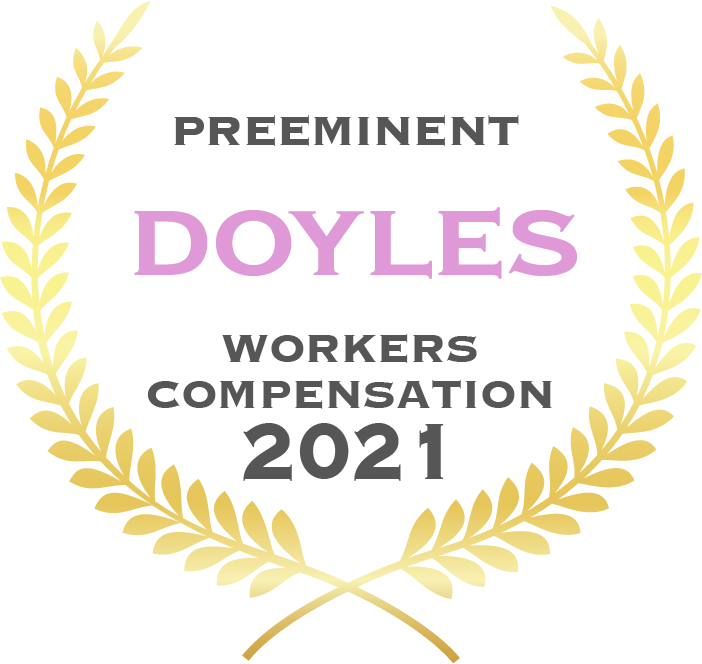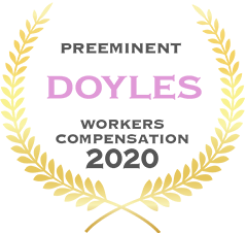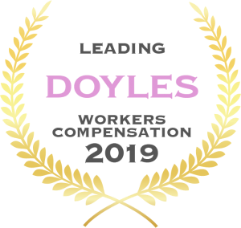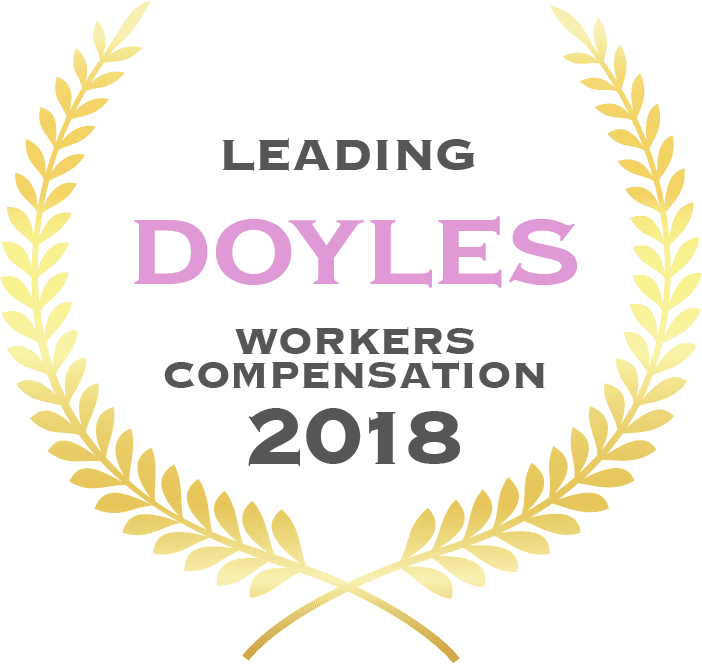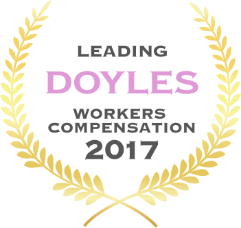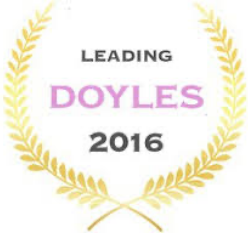 A law firm that understands you
What we offer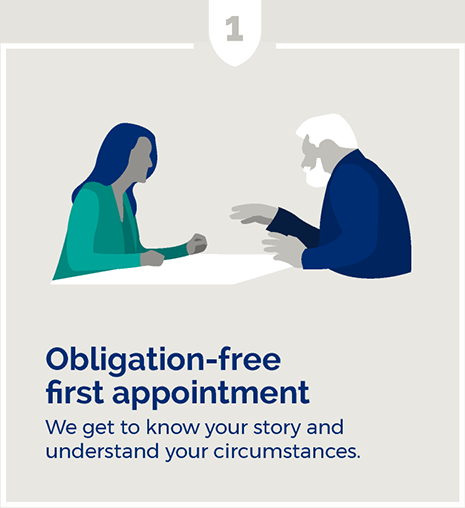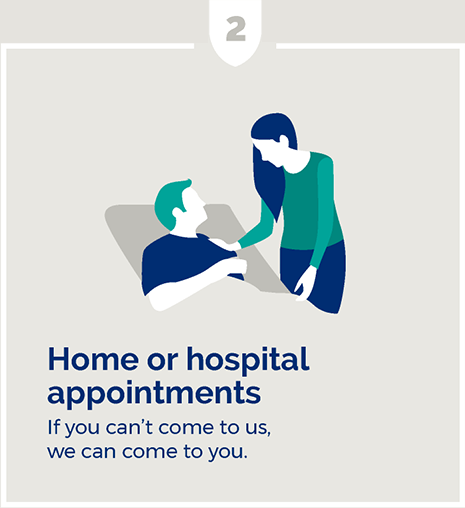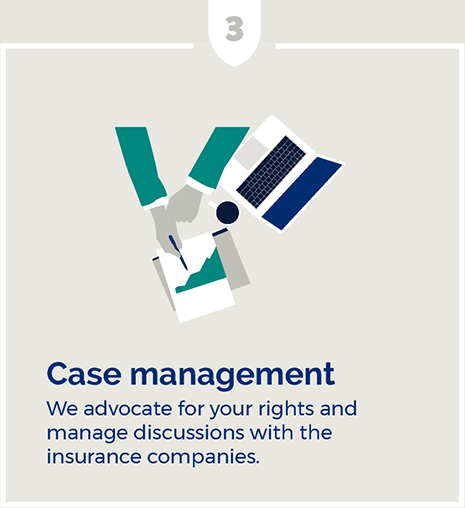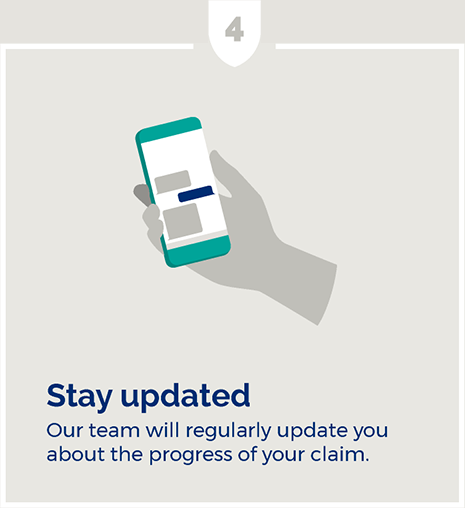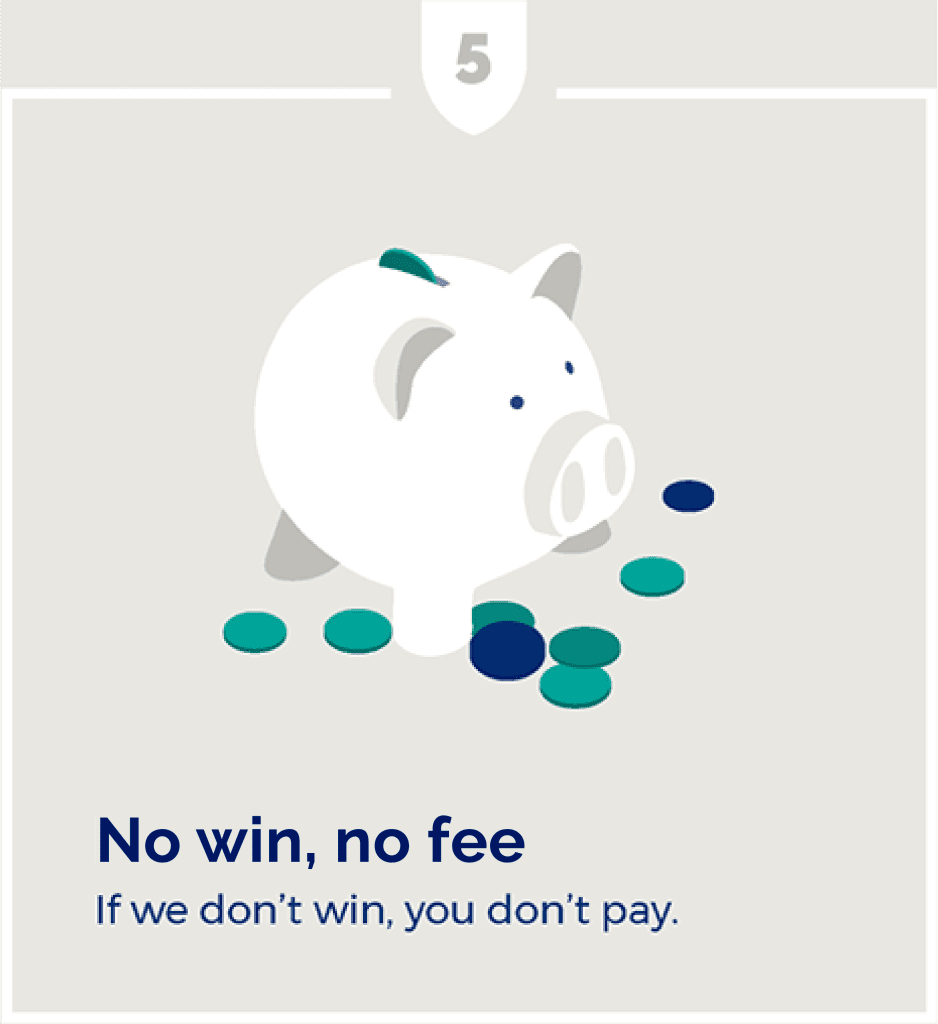 FAQs
What sort of benefits could I be eligible for?
Medical and like expenses
Necessary expenses such as doctors, medications, and conservative and operative treatments.
Weekly payments
Weekly payments are often payable when a worker is unfit for work due to a work-related injury. Even when a worker's entitlement to weekly payments is terminated by the WorkCover insurer, it is possible to have the decision overturned on appeal.
Lump sum payments / Common Law
When a worker sustains a permanent injury they may be entitled to lump sum compensation. This may be via a Section 98C Impairment Benefit or a Common Law settlement requiring proof that a worker has sustained a serious injury caused by the employer's negligent conduct. Either way, Zaparas Lawyers will efficiently access the greatest compensation to which an injured worker is entitled.
I have a work injury, what can you do to help me? What can I expect?
We specialise in helping injured workers. Over the years, we have successfully assisted many workers achieve their rights under Workers Compensation. You can expect that all resources will be invested into your claim without any regard to complexity, difficulty or cost. Make an appointment to see one of our WorkCover specialists who will happily answer all of your questions and give you a detailed step-by-step explanation of your WorkCover rights.
What does WorkCover entitle me to?
Irrespective of how your injury occurred, if you are injured at work you could be entitled to a number of benefits. Under the statutory WorkCover scheme you are entitled to financial benefits which are 'no fault' benefits paid by the WorkCover insurers'. These include:
Payment of weekly compensation when you are unable to work due to injury;
Payment of medical and like expenses; and
A lump sum for a permanent injury.
What if my injury has occurred over a period or I have a recurring injury?
If you have been injured at work, or believe that your work contributed to your injury, then you may be entitled to receive the above WorkCover statutory entitlements. The above WorkCover statutory entitlements do not require fault and therefore your work does not have to be the sole factor that resulted in your injury.
What if my injury occurred over a period of time? What if my injury is old?
If your injury happened over a period of time you still have the same rights under the WorkCover Statutory Scheme. There are some statutory time limitations in making your WorkCover Claim, therefore we recommend you come in and see one of our WorkCover specialists as soon as possible.
When can a contractor be considered as a worker under the WorkCover legislation?
In some circumstances an individual contractor working under a contract of service may be considered a "worker" under WorkCover legislation, and therefore be entitled to claim WorkCover compensation. In considering whether a contractor is a "worker" for the purpose of the WorkCover legislation, the Court may apply several tests which include the:
control test;
integration test;
results tests; and
risk test.
These tests involve consideration of the following factors:
Whether the individual performs work under the direction and control of another including:

The location/s of where to work;
The tasks to be completed; and
The times to complete the tasks.

Whether the individual can subcontract or delegate the contracted work, or otherwise pay for someone else to undertake the work;
Whether the individual supplies most or all of their equipment and tools to complete the work, or whether the business who engaged the individual supplies these items to the individual;
Whether the individual is considered to be operating independently, or is considered to be part of the business that engaged the individual;
Whether the individual is presented to the public as part of the business that engaged the individual, e.g. by wearing the uniform of the business and/or driving a vehicle with the logo of the business;
Whether the individual has an ongoing role with the business or was hired to produce a specific result or perform a specific task;
How the individual is paid – e.g. paid based on completion of a specific task or production of a result or paid regularly irrespective of the task/s completed or results achieved; and
Whether the individual has an ability to make a profit or loss from the performance of their duties
Incorporated contractors and contractors as natural persons in certain circumstances can be deemed to be  workers under the WorkCover legislation, and therefore claim WorkCover compensation if they meet one of the factors mentioned above. To determine if a contractor is a worker under the WorkCover legislation, the contractual relationship between the contractor and the business that hired them is assessed under the general contractor provisions. An individual is deemed to be a worker of the hirer if all the following criteria are met
The provision of materials or equipment is not the principal object of the arrangement;
At least 80% of the work is performed by the same individual; and
At least 80% of the contractor's overall services income in the relevant period is earned from the hirer.
What do I need to bring along to my consultation?
It is most beneficial that you bring all relevant documentation you have, such as completed claim forms, letters from the Insurer and your employer, medical reports, radiological investigations and any other documents that may be relevant.
English is my second language? Are you able to provide an interpreter?
Our firm has a diverse and multicultural team comprising of lawyers and law clerks who speak different languages including: Greek, Cantonese, Mandarin, Serbian, Croatian, Bosnian, Macedonian, Turkish and Singhalese. We also have a network of the very best interpreters who can attend interviews and appointments free of charge to our clients.
How much will I pay in legal costs?
When an injury is sustained, it is not only a traumatic and often life changing experience, it often causes great financial strain to the injured party and their family. This is why for 40 years Zaparas Lawyers has fought cases on a 'No Win, No Fee' basis. In simple terms, this means that you do not pay anything unless you win your case.
Whilst receiving WorkCover benefits, can I claim any other insurance benefits?
You may also be entitled to other claims such as:
Total and Permanent Disablement or Permanent Incapacity claims within your Superannuation Scheme;
Income Protection Claim; and
Incolink.
These schemes are dependant on your unique policy and they all hold various and specific requirements that need to be satisfied.
I sustained an injury whilst volunteering, am I entitled to WorkCover?
WorkCover statutory benefits compensation is generally only available to workers. This means volunteers are not entitled to WorkCover compensation unless they are deemed a worker under an Act of Parliament. If you are a volunteer or someone who assists a government agency in accordance with one of the below Acts of Parliament and are injured whilst carrying out relevant duties then you will be entitled to statutory WorkCover compensation:
Country Fire Authority Act 1958 (casual fire fighters, including volunteer officers and members and volunteer auxiliary workers)
Education and Training Reform Act 2006 (volunteer school workers or volunteer student workers)
Emergency Management Act 1986 (volunteer emergency workers)
Juries Act 2000 (jurors)
Police Assistance Compensation Act 1968 (PAC Act) ( volunteers assisting police officers)
Victoria State Emergency Services Act 2005 (voluntary registered and probationary members of the Victoria SES)
Volunteers in prisons and offenders working or participating in a program under a Correctional Order are deemed workers employed by the Crown and thereby entitled to statutory WorkCover compensation.
Injured at work?
WorkCover is a type of insurance that covers workers who are injured physically and/or psychologically, while performing their duties. Injured workers can claim compensation regardless of who is at fault for their injury.
If you sustain a new injury and/or illness, or even an aggravation or acceleration of a pre-existing injury or condition in the course of your employment, you are likely to be entitled to workers compensation.
All Victorian workers, who are employed on a full-time, part-time and casual basis, are entitled to compensation under the WorkCover scheme.
WorkCover
WorkCover is a compulsory form of insurance that Australian employers must carry. It is insurance that is set up to protect you as an employee in the event of an injury or illness related to work. WorkSafe is the WorkCover Authority in Victoria and its role is to carry out safety inspections and prosecute businesses that don't meet workplace health and safety standards.
WorkSafe, through its nominated insurers, known as Agents, administers the insurance scheme in Victoria. The WorkCover insurance scheme is overwhelming for injured individuals. Every situation is different and that's why you should speak with a skilled compensation lawyer before you submit a WorkCover claim in Victoria.
At Zaparas Lawyers, our Victoria WorkCover lawyers are experts in Victoria-specific workers compensation law. We'll be able to maximise the benefits you receive, giving you and your family peace of mind.
Find out more about WorkCover in Victoria and how Zaparas can help.
WorkCover Entitlements
A workplace injury and/or illness can affect you physically, emotionally and financially. It can often be a stressful experience, for yourself and also your family. Workers compensation is aimed to support injured workers and to assist them in returning back to the workforce.
It is imperative to lodge a Workers compensation claim if you are injured at work, as you may be eligible to a range of benefits that include the following:
Medical and like treatment expenses in relation to your accepted work related injury and/or condition
Weekly payments if you are unable to return to work or unable to work your pre-injury duties
Lump sum compensation for a permanent impairment
Home help services
Travel expenses to and from your treating doctor's appointment
Return to work services
Superannuation entitlements
Make a Claim
All workers in Victoria are eligible to make a claim – whether full time, part-time, casual or even qualified self-employed workers (if you pay into the scheme). When a claim is accepted, you may also make a common law claim against your employer for negligence. In some cases, injuries occurring outside the workplace may be covered (e.g. travelling to work, conferences, training sessions). It is important that you receive a worker's compensation medical certificate and keep official records of all your injury-related expenses.
If you have been injured in a work-related accident, you may be able to claim items such as:
Weekly payments for time lost from work
Medical and hospital expenses
Non-medical expenses that you are forced to incur, such as hiring a gardener or cleaner because you can no longer perform certain domestic tasks
Superannuation benefits if the accident or incident resulting in permanent impairment or inability to work
Rehabilitation
Stress leave. This can sometimes be more difficult to claim for – Zaparas can help you through this process to increase the likelihood of your claim being accepted.
No matter which type of claim you are making, you need to fill out the injured worker's claim form and lodge it with your employer.
Your employer or another party may tell you that you are only eligible for one or the other, or no coverage at all. Always make sure to get the opinion of an experienced compensation lawyer like those at Zaparas Lawyers, to ensure you access the full range of entitlements you deserve. This is also true if you've already submitted a claim that has been rejected – we can help you with the review process and seek to get the decision reversed.
How Does WorkCover Work in Victoria?
In Victoria, there is a specific process that needs to be followed to ensure you will be able to successfully claim WorkCover and receive the proper amount of compensation. At Zaparas Lawyers, our specialist WorkCover lawyers in Victoria can help give you the right advice when you make your compensation claim.
Of critical importance is that you report and record any workplace injury or incident that happens.
Report and Record Incidents & Injuries
1. Report to Emergency Services
It is important that in the event of a workplace accident or injury that people are safe. If there is any immediate danger or serious injury it should immediately be reported to emergency services on 000.
2. Report to WorkSafe
WorkSafe must also be contacted within 48 hours of the incident. However, there does not need to be an immediate injury for an incident to be reportable. If there is the possibility of an incident that can result in injury or illness, an incident needs to be reported as well. Incidents can be reported immediately by phone using WorkSafe's 24/7 emergency number and must be reported in writing (online is best).
It is important that all types of incidents and injuries are reported. Some examples of these include:
Incidents resulting in death
An employee needing medical treatment within 48 hours of being exposed to a substance
An employee needing immediate treatment as an in-patient in a hospital
An employee needing immediate medical treatment for injuries, including amputation, serious head or eye injury, electric shock, serious lacerations etc.
The collapse of a building or structure
Explosive incidents
Dangerous goods incidents (escape, spillage or leakage of any dangerous substance)
Interruption of the main system of ventilation (mines etc.)
Objects falling from high places
3. Report to your workplace Register of Injuries
Your workplace is also required to have a Register of Injuries. This is where the particulars of every injury are recorded and stored. Employers are required to keep a record of this form for 5 years.
If you experience an incident or injury and are not sure whether it is being reported and recorded, ask your employer. Every employee should have easy access to the Register of Injuries.
Following the above reporting and recording procedures means that there is indisputable proof that the incident and/or injury took place. It becomes even more important when the claim is for an illness or a developed condition that presented sometime after the incident.
Every workplace incident and injury are different and that is why it is important to seek legal advice. Our lawyers in Epping, Oakleigh, Cranbourne, Werribee, Sunshine, Preston and Bendigo can assist in advising you on a no win no charge basis. This means that, if we don't obtain compensation for you, you don't have to pay legal fees.
Best WorkCover Lawyers in Melbourne & Victoria
At Zaparas Lawyers, we have years of experience in compensation law. We take the time to go through your specific case with you, assessing both what has occurred and what your needs are. With all the information in hand, we are able to put together a plan that maximises your benefits – including lost income, medical expenses, and where applicable, damages for lost wages and pain and suffering. Thanks to our 'No Win No Charge' policy, you need not worry about how to afford top-notch legal representation. If we do not win your case, you do not pay us a cent. To find out how our Melbourne WorkCover lawyers can get you the benefits you deserve, contact us today.
Why Zaparas?
We've seen how traumatic and life changing an injury can be, so we understand how important it is that you don't have to worry about the financial side of your claim. It's why we've based our business on the foundation of 'No Win, No Charge'
At Zaparas Lawyers, we have over 40 years of experience in compensation law. Our WorkCover Lawyers are experts in workers compensation claims. We'll be able to maximise the benefits you receive, giving you and your family peace of mind. Contact us today for a free, no obligation telephone call.
Video
Team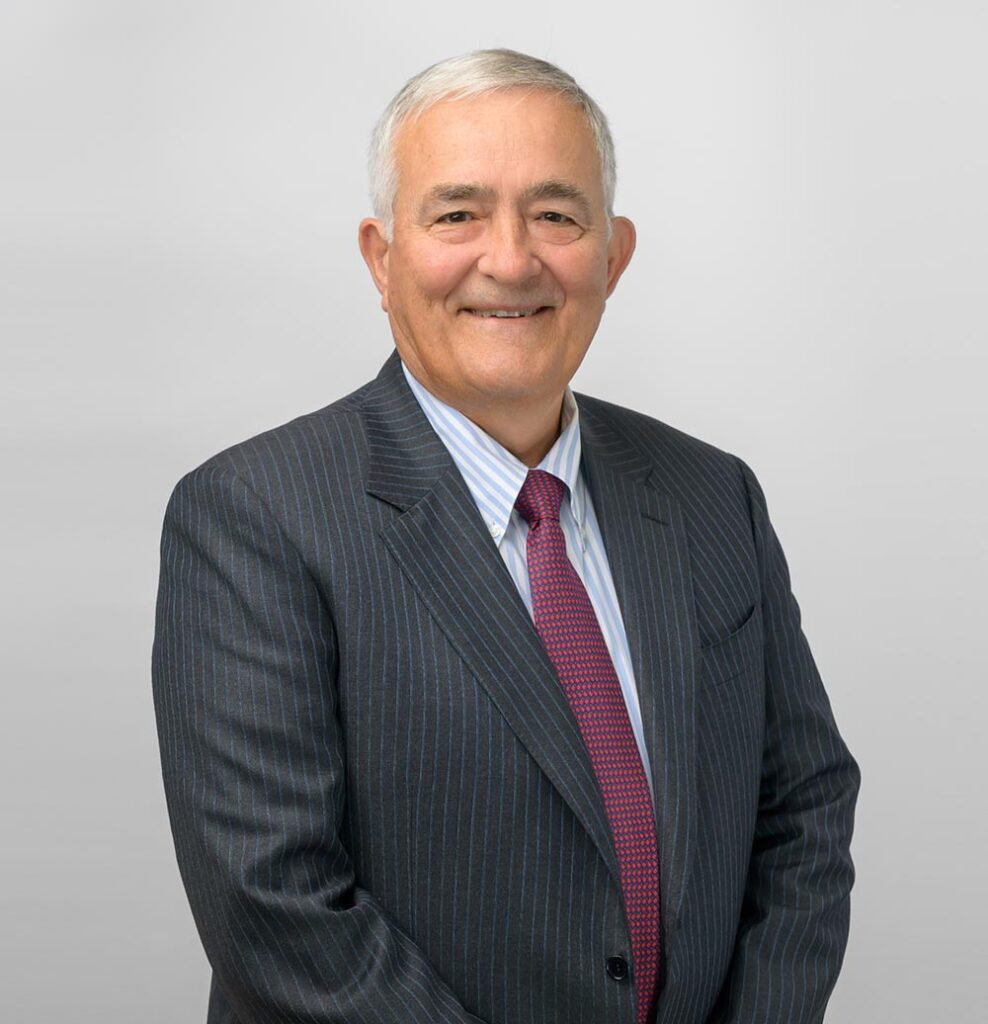 Peter Zaparas
Partner
Specialities: WorkCover, TAC (Road Accident), Public Liability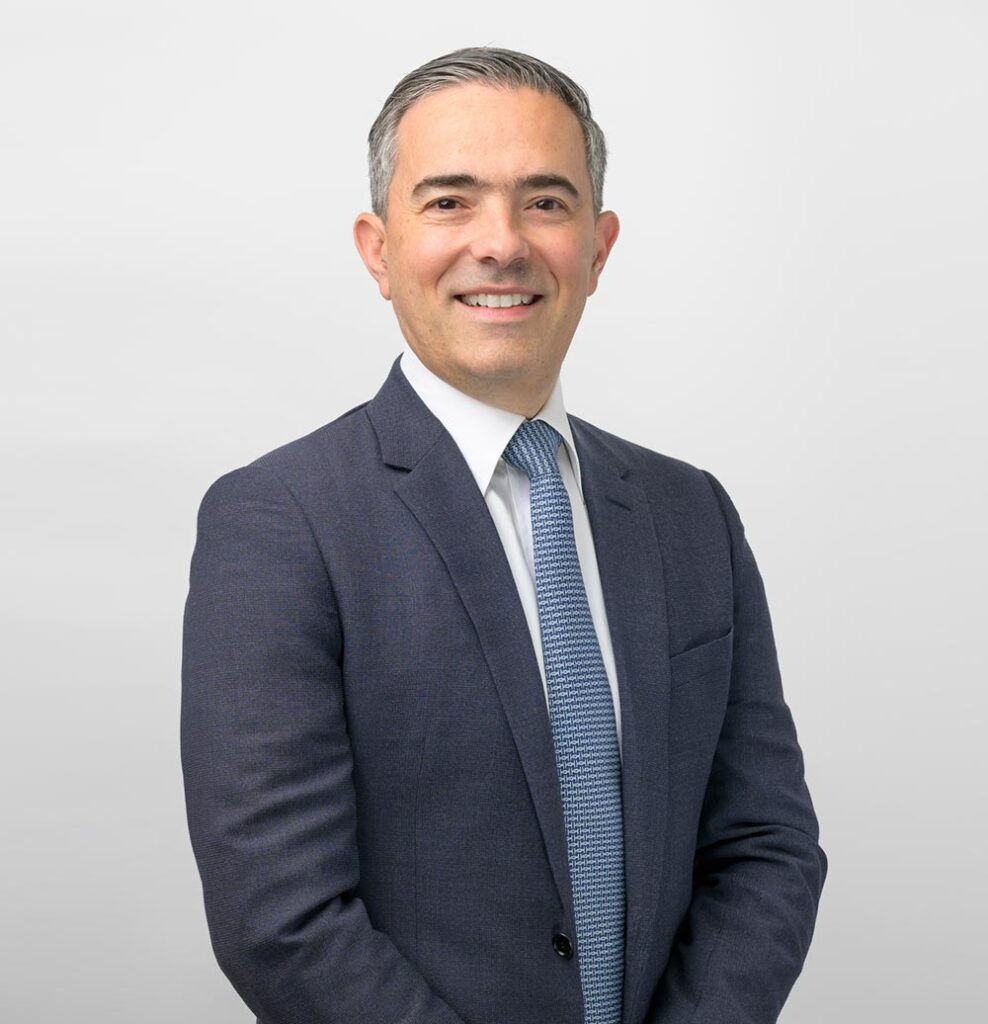 Paul Zaparas
Partner
Specialities: WorkCover, Asbestos, Occupational Diseases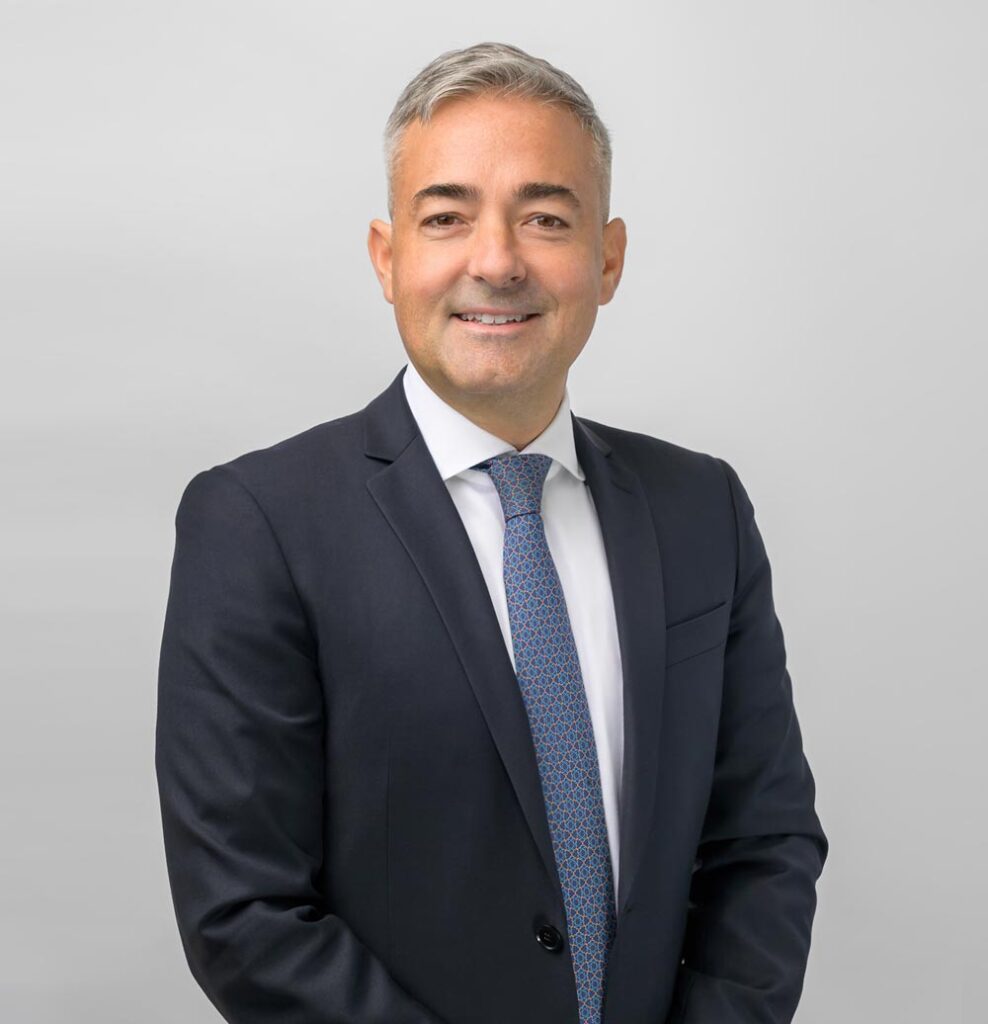 Yianni Zaparas
Partner
Specialities: WorkCover, Asbestos, Occupational Diseases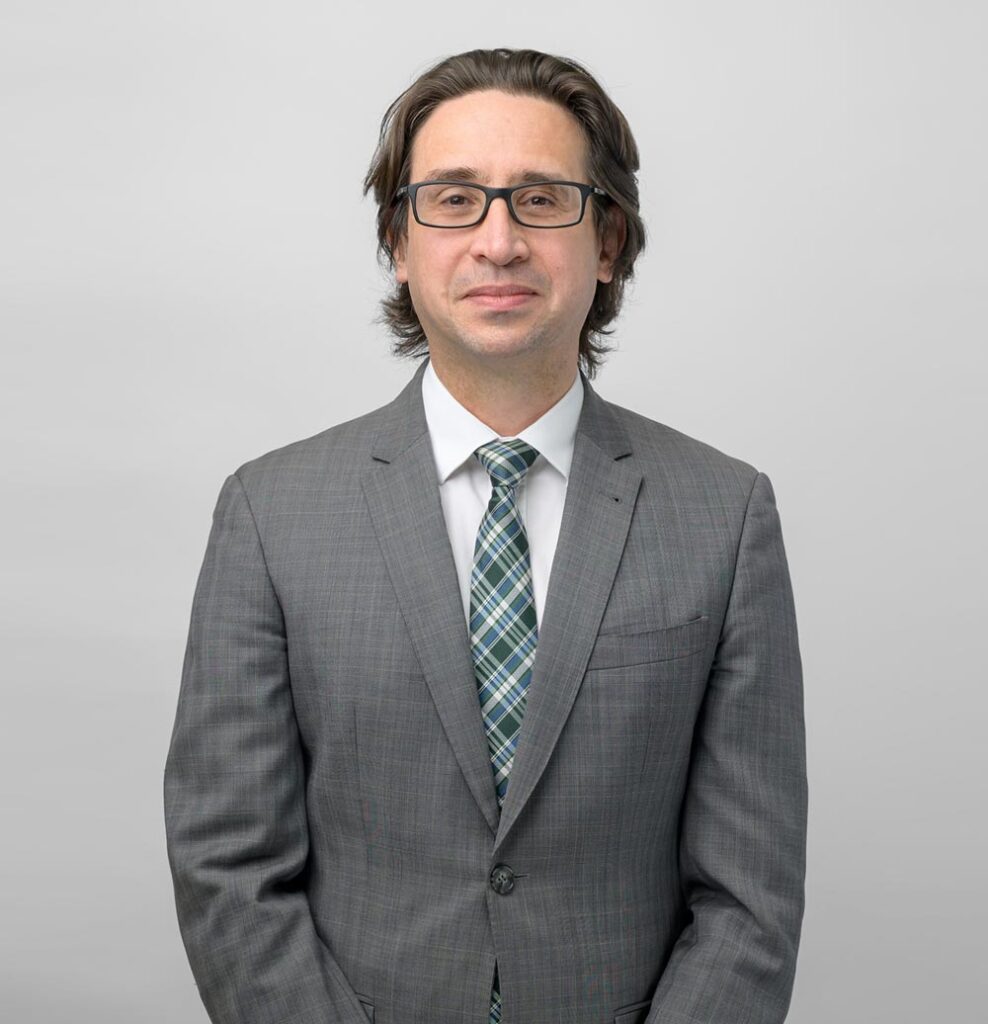 John Typaldos
Partner
Specialities: WorkCover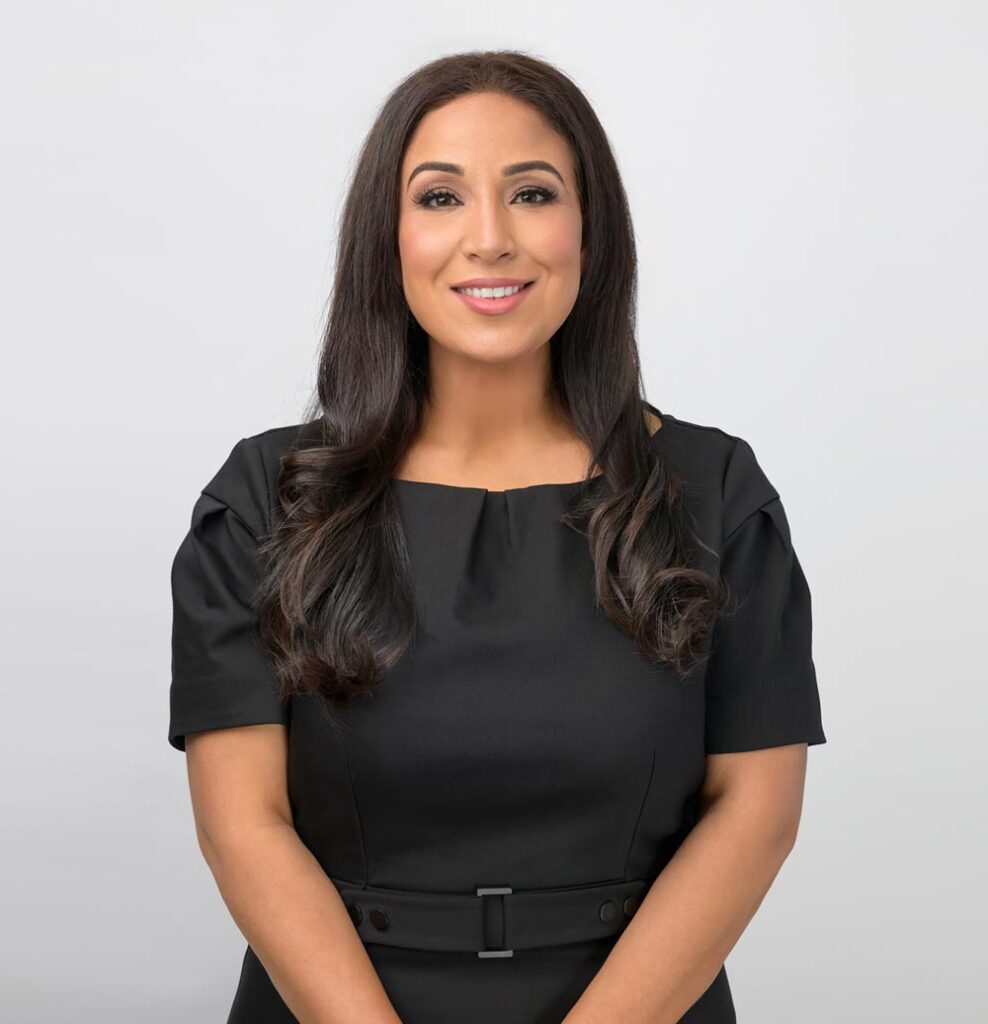 Rebecca Christofidis
Partner
Specialities: WorkCover, TAC (Road Accident)
Blog
Workplace injuries can have profound physical and psychological effects on employees and their families. It is every worker's right to expect a safe work environment, and if an injury does occur, taking the right steps is crucial for appropriate and timely treatment and potential compensation.

Zaparas Lawyers successfully assisted an injured retail worker to obtain damages following an assault by a suspected shoplifter. In 2017 near the end of the workday, our client, a Retail Sales Assistant working by herself, was assisting a customer in a clothing shop when a Shopping Centre Security Guard indicated that a person who had…

Pesticides are used domestically as well as occupationally to control, repel and destroy pests. Pesticides are commonly dispersed as an aerosol on crops. They are also used around the home and garden to control insects.